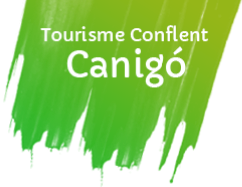 Vernet is a great place for outdoor activities. As well as many miles of footpaths ranging from easy to strenuous, there is an open air swimming pool and an equestrian centre. There are trails for mountain bikes, and electric bikes can be hired in the village. Sadly, 4x4 drives up the Canigou (2784m or 9134ft) are no longer permitted, but it is walkable in a long day from Vernet, with an ascent of about 7000ft. It's possible to use a car to save a bit, but not much, of the ascent. Indoor activities include a very good little geological museum, the thermal spa, where you can book various treatments, and the casino. You'll find plenty of general information and a calendar of events on the Tourist Office website. Through the summer, there is a programme of evening entertainment in the village square.
5km down the valley, where the Cady flows into the main Têt valley, is the walled village of Villefranche de Conflent. You can enjoy the shops and restaurants and a walk round the ramparts, or you can visit Vauban's Fort Liberia on the mountainside above. There are spectacular limestone caves, if you fancy something a bit cooler. A very poular visit is to take the narrow-gague electric Little Yellow Train which winds its way up the valley onto the plateau above Mont Louis. It gets busy in the summer, so book and turn up early.
A 25 minute walk up the valley from Vernet brings you to Casteil, where you'll find an excellent open-air zoo. Above the village is the splendid Abbey of St Martin. You can take a 4x4 up there (info on the Abbey website), or walk, which is a steepish but simple 30 minutes.
For lovers of historic buildings, you might like to visit the Abbey of St Michel de Cuxa a few miles away near our local town of Prades, or the Priory at Serrabone. A good hour's drive away, but spectacularly well worth it, are the Cathar castles at Queribus and Peyrepertuse.
Elsewhere, within a 30-60 minute drive, there are outdoor thermal baths (St-Thomas-les-Bains), adventure activities (Marquixanes) and, of course, winetastings. Caramany is one of the most popular, with a lake and Roman aqueduct nearby. There are ski resorts about an hour away from Vernet.
An hour's drive from Vernet takes you to the coast, or to the Spanish border. If you're an art fan, then you'll want to visit Salvador Dali's house and the museum in the lovely seaside village of Cadaqués. The jewel of the French coast is the rocky harbour village of Collioure, but head to any of the resorts between Collioure and Leucate if you're looking to soak up the sun on sandy beaches. Canet-Plage has an excellent aquarium. 
Our local city is Perpignan, where a highlight is the Thursday evenings of outdoor music which take place across the city centre through the main holiday season. Perpignan is home to two prominent Rugby Clubs, both League and Union. The Moorish Palais des Rois de Majorque is well worth a visit, as is the Chateau de Salses, a few milkes to the north. The two major cities within striking range of Vernet are Barcelona and Montpellier. Both are accessible by train from Perpignan, or by a three hour drive from Vernet. A bit closer, at around a two hour drive, are the cities of Carcassonne, Nîmes and Girona, all highly recommended. 
If shopping is your thing, then you'll find that it's generally cheaper across the border in Spain. Beware the queues though to get in and out of La Jonquera in the summer. Alternatively, you could take the two hour drive to Andorra, where the shops are set amid stunning mountain scenery. Whatever you do, we're sure you'll have a brilliant holiday in and around Vernet.