12: Extents
Submitted by
Jeff Ladd
on August 20, 2017.
lesson Paragraph:
If you ring all the possible rows on a number of bells, you are said to have rung the extent.
An extent of Minimus (4 bells) is 24 rows. In case you weren't able to write it out, or couldn't be bothered trying, here's a plain course of Plain Bob Minimus, which also happens to be the extent:
Lesson Image: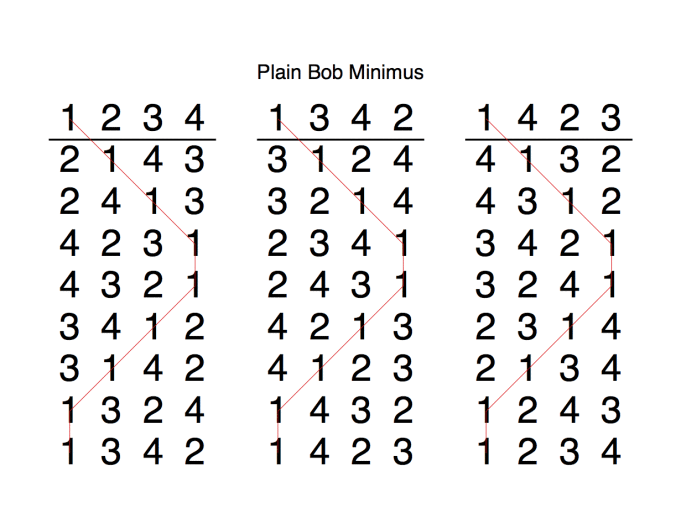 lesson Paragraph:
I've already suggested that the extent of Doubles is 120 rows. That takes about 5 minutes to ring, and I'll show you how to get an extent of Grandsire Doubles shortly.
An extent of Minor (6 bells) is 720 changes, and takes somewhere roughly between 25 and 30 minutes to ring. Using the ideas from the last post, you should be able to see that 720 is just 1206, or 123456.
An extent of Triples (7 bells) is 7207. Hopefully, you can understand where that sum came from. That gives 5040 changes, about 3 hours of ringing.
Once you start adding in even more bells, you can probably see that ringing an extent on more than 7 bells is going to take a long time. The extent on 8 bells (40 320 rows) by just 8 ringers has only ever been rung once, way back in 1963 at Loughborough Bellfoundry. It took 17 hours and 58 minutes. The method was Plain Bob Major.
Multiply that by 9 and you'll see that an extent of Caters (9 bells) would take several days, and so wouldn't be achievable by just 10 ringers (don't forget, you need a covering tenor to ring Caters).
Here, for completeness is a table showing the names that are given to methods on the various numbers of bells, the number of changes in an extent, and a rough indication of the length of time it would take to ring it:
Lesson Image: